ROLAND-GARROS 2021 BROADCAST: WHERE AND HOW TO WATCH THE TOURNAMENT?
Discover the official broadcasters of Roland-Garros 2021, which will take place from 24 May to 13 June.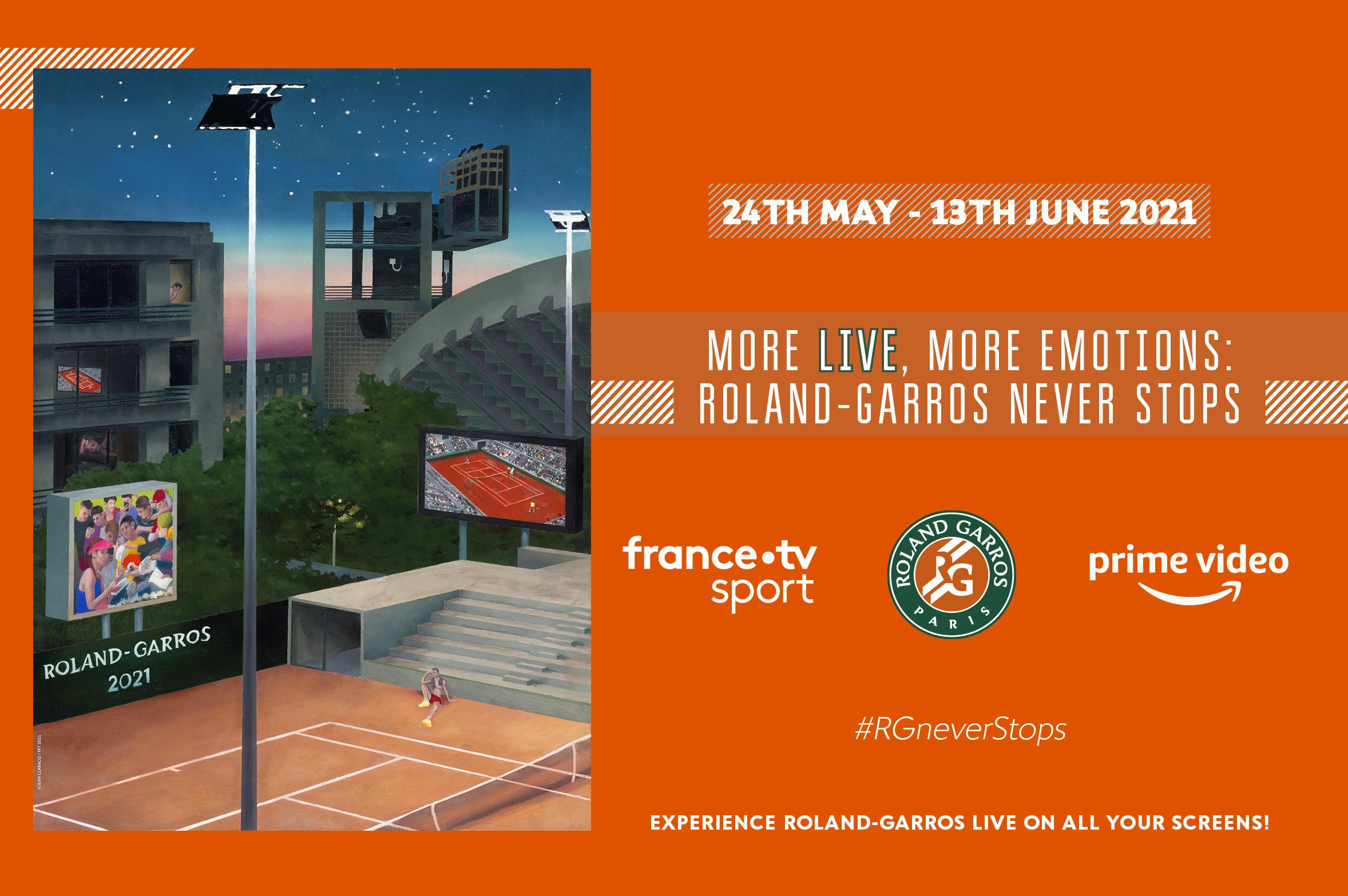 Roland-Garros 2021 will have exceptional TV coverage in France and abroad this year. Here are the details of the tournament broadcast.
In France : France Télévisions & Amazon Prime
France Télévisions and Amazon Prime Video will be offering maximum coverage of the tournament in France. A long-standing partner of Roland-Garros, France Télévisions will show every match at the Parisian Grand Slam tournament with the exception of night session matches on Court Philippe-Chatrier and matches played on Court Simonne-Mathieu. From 30 May, the France Télévisions Group will show 11 hours of tennis a day on its France 2, France 3 and France 4 channels and its online platform france.tv, bringing even more live coverage to its viewers this year. Tennis fans will also be able to follow the qualifying competition, which runs from 24 to 28 May, on France.tv and the France TV Sport app.
For its part, Amazon Prime Video, which is showing the tournament for the first time, will provide exclusive coverage of the ten night sessions, scheduled for Monday 31 May to Wednesday 9 June, and every match on Court Simonne-Mathieu. The main match of the night sessions will begin at 21:00 CET through to Tuesday 8 June and at 20:00 CET on Wednesday 9 June.

Both broadcasters will show the tournament semi-finals and finals.
Worldwide TV coverage
This year's tournament will also receive extensive global TV coverage, going out on more than 170 channels in 222 countries and territories. The Parisian Grand Slam has also signed several new broadcast agreements, with Australia, Brazil and the USA to the fore.
One of Australia's largest media groups, Channel Nine is, as of this year, an exclusive Roland-Garros broadcaster. It will provide extensive coverage of the tournament through its free-to-view channels Channel Nine, 9Go and 9GEM, its on-demand service 9Now and its OTT platform Stan. Channel Nine now broadcasts three Grand Slam tournaments: the Australian Open, Wimbledon and Roland-Garros.
The FFT has also strengthened its ties with Brazil by signing agreements with Globo and BandSports. BandSports, which has broadcast the tournament since 2013, will once again be showing it this year. Meanwhile, Globo, Brazil's leading TV network – covering nearly 2,000 sporting events a year – will show matches from Roland-Garros on SporTV, the country's leading pay channel.
There will also be more Roland-Garros coverage in the USA. The Tennis Channel, which has covered the tournament since 2007, will show seven night sessions on its pay channel. In addition to the coverage NBC has offered every year for more than 35 years now, NBC Universal will step up its Roland-Garros programming to show three night sessions on its Peacock platform. With night sessions providing US tennis fans with later Roland-Garros coverage than usual this year, audiences should increase.

Finally, a new agreement has been signed with 17 of the regional sport networks (RSNs) operated by Sinclair, which also owns the Tennis Channel. The agreement provides for four hours of coverage a day across the first nine days of the tournament